New Date for 2018!
Posted by Amy Poole
On September 21, 2017
With the October 4, 2017 Product Show only days away, planning for 2018 is already in full swing. Exhibitors need to be aware of a number of major changes planned for 2018, including a brand new exhibit space layout. Most importantly:
For 2017 exhibitors, registration and exhibit selection for 2018 opens on October 4, 2017 – the same day as this year's Show – with all exhibit spaces available on a first come, first served basis.
Exhibitor registration will open to the public two weeks later, on October 18, for those who did not exhibit at the 2017 Show. So if you're a 2017 exhibitor, be sure to take advantage of your privileged status, register on October 4 and be among the first to choose your exhibit space for 2018. Not exhibiting this year? Mark your calendar and register on October 18 – there will be plenty of prime spots still available.
Read on to learn about the many changes and improvements for 2018. That way, you'll be prepared to snag the best spot for your business when exhibitor registration opens. See you at Gillette!
Wednesday, September 26, 2018 For 20 years, the Product Show has been held on the first Wednesday of October.  As a result of an agreement with ISPE, starting in 2018 the Show will be held on a Wednesday in late September, with the 2018 Show on Wednesday, September 26. Future dates can be found on the Chapter website.
More Booths & New Layout You asked and we answered! The layout for 2018 offers a dramatic increase in the number of 10′ x 10′ booths allowing you more flexibility to create a unique display and exhibit equipment. There are also three Super Booths available with even more square footage, for those looking for something special. For those interested in tabletop displays, all tables will be 8′ x 2'6″ – no more 6′ tables. With approval, the table can be removed in favor of a floor display, as long as the display fits within the 8′ x 2'6″ footprint.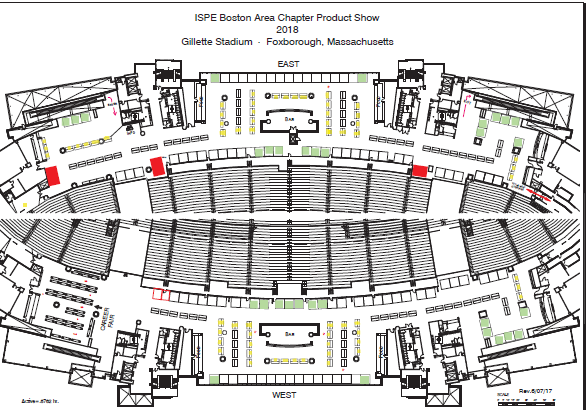 A new layout has been developed so attendees can more easily navigate the Show and visit all of the exhibits. As you can see from the diagram, the area formerly used for the plenary and educational sessions has been reconfigured for added exhibit space. The display areas in the other parts of both clubhouses have also been redesigned to be more efficient for attendees.
Show Schedule Changes  Since the area for the plenary and educational sessions has been converted to exhibit space for 2018, what happened to the plenary session and educational sessions? The educational sessions will be relocated to the Red Level Suites for 2018. And the plenary session will be moved to a new Chapter event to be held each spring, building on the success of the Gala held this past April.
With these changes, the 2018 Show will open at 10:00 am and conclude at 6:00 pm, immediately followed by the After-Party. The earlier start means that there will be only one hour available to set up on the day of the Show (8-9 am), so most exhibitors will want to set up their booths the day before.
Educational Sessions  Since the 2018 educational sessions will take place in the Red Level suites, we are looking at holding several sessions geared toward smaller audiences. We will be issuing a call for presentations shortly after the 2017 Show concludes, with proposals due in early January 2018. If you have a presentation that you have been dying to give, this is your chance. Keep an eye out for the call for presentations!
New Sponsorship Opportunities  We will be offering several new, exciting sponsorship opportunities for 2018, including the opportunity to rent a hospitality suite on the Red Level. What you do with the suite is limited by your own imagination: You can host a networking reception, conduct business or make a product presentation to your clients. We will be retiring the Innovation Stage on the Show floor to allow for the new layout, so the Red Level hospitality suites will provide a new, more luxurious venue in which to educate your clients about your products and services.
With all these changes, you need to be prepared when exhibitor registration opens for the 2018 Show on October 4th. Review the new layout and the new sponsorship opportunities on the Product Show website so you're ready to snag the best spot for your business. See you at Gillette!